Am absolvit cursul Google: Digital Analytics Fundamentals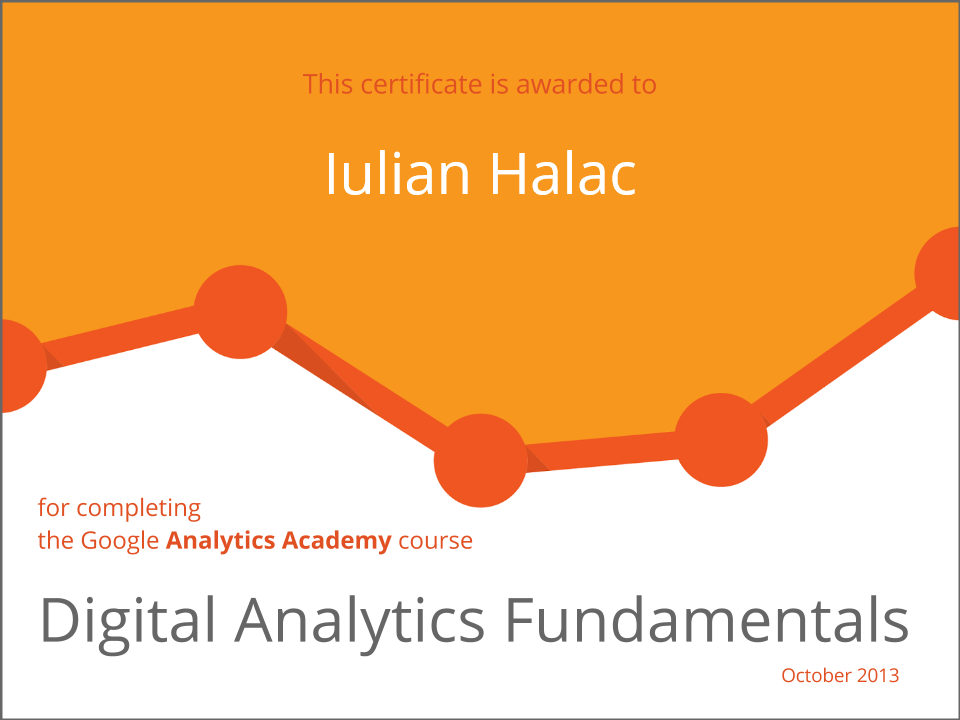 Analytics Academy, noua platforma de studiu pentru Analytics, s-a lansat recent si debuteaza cu un curs online de 3 saptamani – Digital Analytics Fundamentals.
Acest curs se adreseaza persoanelor care doresc să înțeleagă principiile de bază de analiză digitale și de a îmbunătăți performanțele afacerii prin măsurarea digitală mai buna. Dupa cum spun cei de la Google, persoanelor care doresc sa devina expert in Google Analytics.
Continutul acestui cursul este in format video si este structurat in 6 capitole. La finalul fiecarui subcapitol se afla un set de exercitii si intrebari grila cu scopul de a invata si recapitula cele invatate pana atunci.
Pentru a primi certificatul pentru acest curs, trebuie sa termini toate activitatile cursului si examenul final cu un procentaj de peste 80% pana la data de 30 Octombrie, 2013 at 11:59pm PDT.
Mai multe detalii despre acest curs:
Course highlights include:
An overview of today's digital measurement landscape
Guidance on how to build an effective measurement plan
Best practices for collecting actionable data
Descriptions of key digital measurement concepts, terminology and analysis techniques
Deep-dives into Google Analytics reports with specific examples for evaluating your digital marketing performance
Schedule
Pre-course survey
Unit 1 – Course overview
Unit 2 – Getting started with digital analytics
Unit 3 – Understanding and using Google Analytics data
Unit 4 – Collecting actionable data with Google Analytics
Unit 5 – Navigating Google Analytics reports
Unit 6 – Navigating Conversions reports
Final assessment
Va puteti inregistra la acest curs aici.