Year of Showrooming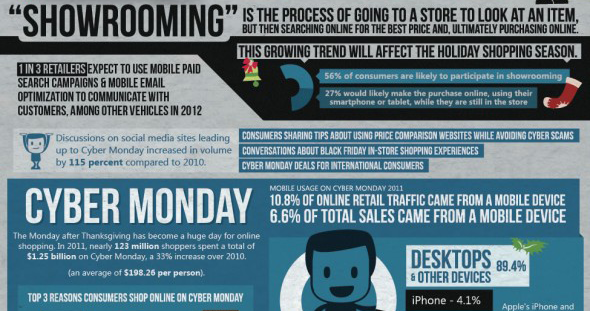 Pentru multi analisti si comercianti cu amanuntul, 2012 a fost Year of Showrooming! Showrooming-ul – practica de a remarca pe viu un produs in interiorul unui magazin si de a cauta si cumpara ulterior acelasi produs la un pret mai mic pe Internet.
Acest lucru a luat amploare de cand din ce in ce mai multa lume a ajuns sa poarte peste tot cu sine diverse gadget-uri, precum smartphone-urile sau tabletele.
56% din consumatori vor practica Showrooming-ul de sarbatori in acest an si mai mult de un sfert din ei spun ca vor cumpara online.
Totusi insa, studiile aprofundate au aratat ca aceasta practica dezvoltata recent nu prevede un viitor atat de sumbru pentru retaileri, asa cum pare la prima vedere. Un studiu efectuat de compania de marketing mobil "Vibes" a scos la iveala nu numai ca showrooming-ul nu este un risc major pentru retaileri, ci chiar ar putea fi o unealta pentru a creste vanzarile magazinelor propriu-zise.
Iata un infografic pe aceasta tema: